Program Overview
Since 2018, the Teach Access Study Away Program has brought together students, faculty, and industry partners to explore the field of accessibility.
In addition to learning about accessibility, other goals of this learning program include
Equipping students to be advocates and champions for accessibility

Building and expanding students' professional networks

Learning about career paths in accessibility

Understanding work processes in the tech industry
Students can expect to engage with topics such as:
Accessibility Fundamentals

Assistive technology

Web/app accessibility

Accessible events & communication

Racial justice, intersectionality, and disability rights

Accessible design

Inclusive marketing & storytelling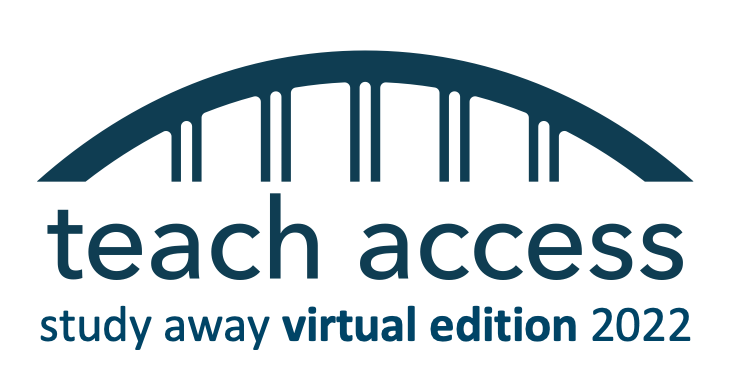 2022 Virtual Study Away
The 2022 Teach Access Virtual Study Away will be a 5 week program, beginning on Tuesday, April 12, 2022. During this program, students will learn about accessibility while interacting with Teach Access industry partners such as Google, Meta, Microsoft, Apple, LinkedIn, Walmart, etc. 
The 2022 Virtual Study Away program is being offered for free to accepted applicants.
2022 Program Schedule:
Session 1: Tuesday, April 12, Kick-Off Welcome Event

Session 2: Tuesday, April 19, Introduction to Accessibility

Session 3: Tuesday, April 26, Accessibility & Inclusive Design

Session 4: Tuesday, May 3, Accessibility & Innovation

Session 5: Tuesday, May 10, Accessibility & Advocacy
All sessions will take place virtually on Zoom from 7:00pm-9:15pm Eastern Time (4:00pm-6:15pm Pacific Time)
Application Process:
Please apply to be a part of the 2022 Virtual Study Away by Thursday, March 31, 2022. Students will hear if they are accepted by Thursday, April 7, 2022 and will need to commit by responding to the acceptance email. 
Apply to the 2022 Study Away
Program Eligibility: 
Must be a student enrolled in an Undergraduate or Graduate program at a College or University. All disciplines are welcome in addition to those interested in Computer Science, Human Computer Interaction and User Experience. 
Program Benefits: 
This program is a great opportunity to learn about accessibility and network with a wide variety of people in higher education, industry, and advocacy organizations. The students that complete the study away program will also have exclusive access to participate in a Teach Access Career Fair hosted by some of our partner companies in the fall. 
Program Questions? Email info@teachaccess.org