Student Career Development Series
Teach Access was excited to host our first annual 6-week career development program, free for all college students and recent graduates in Fall 2022. We will be offering the Career Development Series again in Fall 2023. Stay tuned for more information on that!
Program Overview
The inaugural Teach Access Career Development series will feature guest speakers from EY, Walmart, World Institute on Disability, American Foundation for the Blind, VMWare, Microsoft, and the U.S. Department of Labor. 
Meet our partners and learn about career trends, preparing for internships and jobs, what it's like to work in different industries, at a specific company, and other topics geared toward career development for current students and recent college graduates.  
Program Schedule
Weekly Friday sessions run October 7th – November 18th.
All sessions will occur via Zoom at 12:00 pm – 1:00 pm EST (9:00 am – 10:00 am PST).
CART and ASL will be provided. Additional accommodations can be requested during the event registration.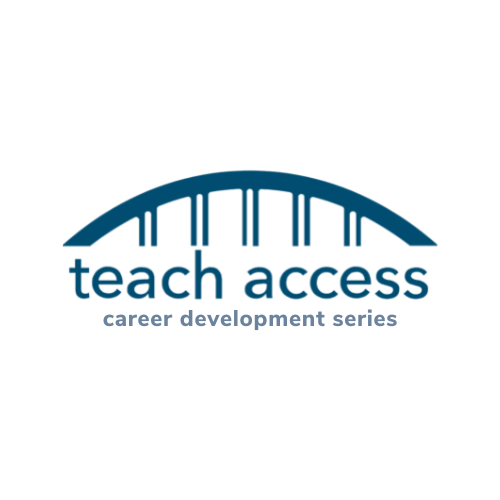 Schedule Details
All sessions will take place virtually on Zoom from 12:00pm-1:00pm Eastern Time (9:00am-10:00am Pacific Time).
Friday, October 7, 2022- Accessibility Careers at EY

Kevin Grogg, Assistive Technologies Service Owner
Gautam Rao, Global Digital Accessibility Leader 


Friday, October 14, 2022- Infusing Accessibility into your Career presented by Walmart


Walei Sabry, Staff Product Manager
Sheri Wilson, Front-End Software Engineer
Melody Yin, Senior Product Designer
Giovani Camara, Senior Product Manager
Jennifer Arango, Senior Accessibility Product Manager

Friday, October 21, 2022- Careers in Disability Advocacy with World Institute on Disability and American Foundation for the Blind

Megan Lang

, WID Accessibility and Universal Design Specialist
Kristin Reuschel, AFB, Program and Curriculum Manager
Hanna Fugulin, AFB, Internship Ambassador.

Friday, October 28, 2022- Resume Tips, Tricks & Careers at VMWare

Santina Croniser, Accessibility Manager, Embedded Accessibility Strategist Program

Friday, November 4, 2022- Careers at Microsoft

Peter Wu,
Kristina Ortiz, University Recruiter

Chioma Acholonu

, University Recruiter

Friday, November 18, 2022- U.S. Department of Labor Career Trends

Amy Fong, Mathematical Statistician
Please note there is no session scheduled for Friday, November 11th due to the Veterans Day holiday.
All students currently enrolled in a college or university are encouraged and eligible to register and join. Complete your registration below and secure your seat. Once you complete the registration form, you will receive an auto-response to register for the Zoom sessions.  CART and ASL interpreters will be provided for each session and other accommodations can be requested during program registration.