Accessible Technology Skills Gap
Bridging the Accessible Technology Skills Gap
In Fall 2022, Teach Access created a new Accessibility Skills Gap Survey, which was inspired by a 2018 report released by the Partnership on Employment and Accessible Technology (PEAT). Much has happened since 2018, and we wanted to know where gaps exist in 2022. We updated the questions so that the new report would accurately reflect the accessibility skills that currently exist within the workforce, measure changes since 2018, and highlight new focus areas that can help us all improve.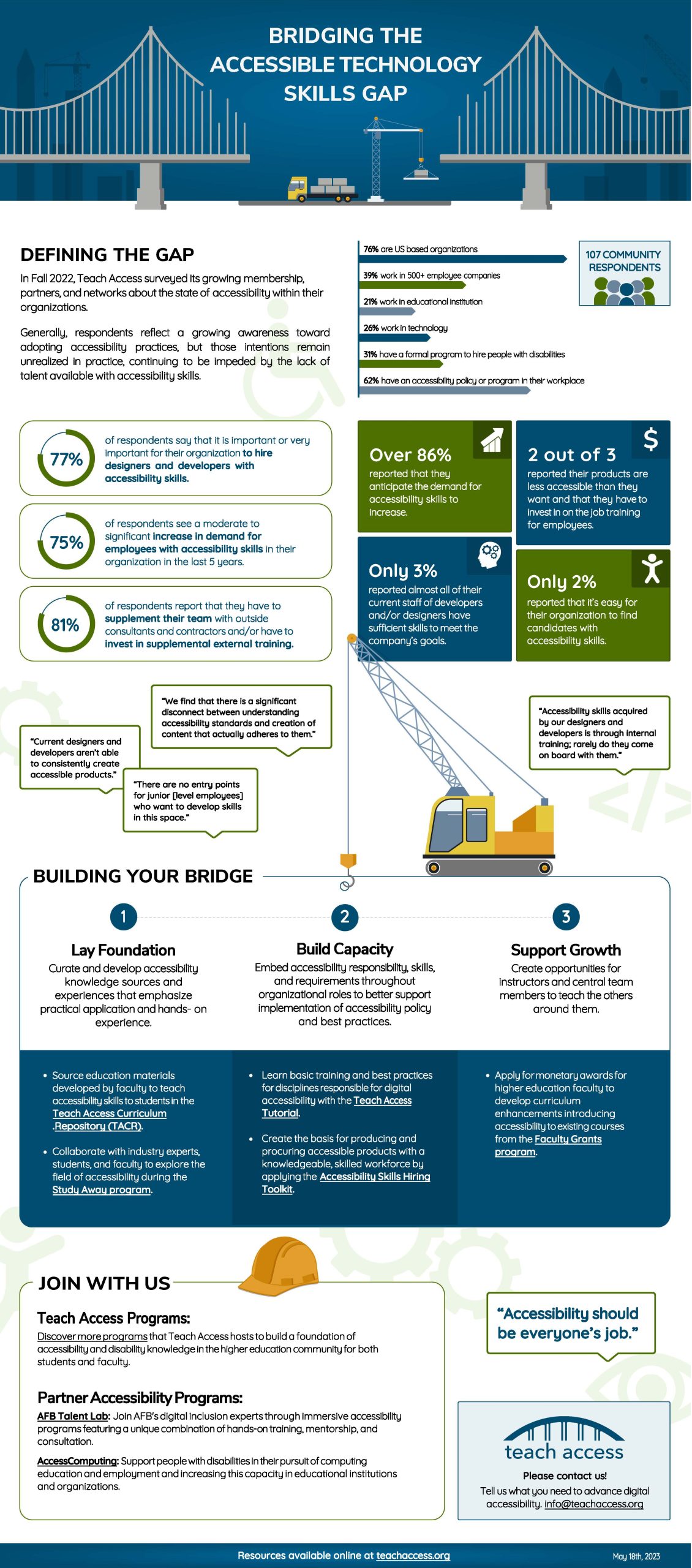 Bridging the Accessible Technology Skills Gap Text Description
Bridging the Accessible Technology Skills Gap
Defining the Gap
In Fall 2022, Teach Access asked its growing membership, partners, and networks to update us through a survey about the state of accessibility within their organizations.
Generally, respondents reflect a growing awareness toward adopting accessibility practices, but those intentions remain unrealized in practice, continuing to be impeded by the lack of talent available with accessibility skills.
107 Community Respondents:
76% are US based organizations
39% work in 500+ employee companies
21% work in educational institution
26% work in technology
31% have a formal program to hire people with disabilities
62% have an accessibility policy or program in their workplace
Statistics:
77% of respondents say that it is important or very important for their organization to hire designers and developers with accessibility skills.
75% of respondents see a moderate to significant increase in demand for employees with accessibility skills in their organization in the last 5 years.
81% of respondents report that they have to supplement their team with outside consultants and contractors and/or have to invest in supplemental external training.

Over 86% reported that they anticipate the demand for accessibility skills to increase.

2 out of 3 reported their products are less accessible than they want and that they have to invest in on the job training for employees.

Only 3% reported almost all of their current staff of developers and/or designers have sufficient skills to meet the company's goals.

Only 2% reported that it's easy for their organization to find candidates with accessibility skills.
Quotes:
"Current designers and developers aren't able to consistently create accessible products."
"There are no entry points for junior [level employees] who want to develop skills in this space."
"We find that there is a significant disconnect between understanding accessibility standards and creation of content that actually adheres to them."
"Accessibility skills acquired by our designers and developers is through internal training; rarely do they come on board with them."
Building Your Bridge
1. Lay Foundation
Curate and develop accessibility knowledge sources and experiences that emphasize practical application and hands-on experience.
2. Build Capacity
Embed accessibility responsibility, skills, and requirements throughout organizational roles to better support implementation of accessibility policy and best practices.
Learn basic training and best practices for disciplines responsible for digital  accessibility with the Teach Access Tutorial.
Create the basis for producing and procuring accessible products with a knowledgeable, skilled workforce by applying the Accessibility Skills Hiring Toolkit.
3. Support Growth
Create opportunities for instructors and central team members to teach the others around them.
Apply for monetary awards for higher education faculty to develop curriculum enhancements introducing accessibility to existing courses from the Faculty Grants program.
Join With Us
Teach Access Programs:
Discover more programs that Teach Access hosts to build a foundation of accessibility and disability knowledge in the higher education community for both students and faculty.
Partner Accessibility Programs:
AFB Talent Lab: Join AFB's digital inclusion experts through immersive accessibility programs featuring a unique combination of hands-on training, mentorship, and consultation.
AccessComputing: Support people with disabilities in their pursuit of computing education and employment and increasing this capacity in educational institutions and organizations.
Footer:
"Accessibility should be everyone's job."
Teach Access [Logo]
Please contact us!
Tell us what you need to advance digital accessibility. info@teachaccess.org
Resources available online at teachaccess.org
May 18th, 2023
Plain Text Version of the Report
Access Plain Text Version of Bridging the Accessible Technology Skills Gap Report
Why Teach Accessibility Fact Sheet