Summary
As the end of the year approaches, we hope this message finds you well and ready to embrace the joys and challenges of the coming months. We understand that this time of year can be both exhilarating and demanding, and we appreciate your continued support and engagement with our organization.
Very soon we'll share our 2023 Impact Report with you that highlights our work and accomplishments so keep an eye out in your inbox! We'll also be hosting our inaugural "State of Teach Access" event on Friday, December 15 at 1 p.m. ET. Join us as we reflect on 2023, share our vision for 2024, and spend a little social time together.
Challenge Time
We're excited to share that Teach Access has received a $5,000 challenge grant from the Reader's Digest Partners for Sight Foundation, which will help us secure additional funding to expand our Curriculum Repository. This repository offers valuable resources for educators to incorporate digital accessibility modules into their courses. Donating today will match your gift, effectively doubling its impact up to $5,000. Your support is vital in advancing digital accessibility education.
Give Today and Double Your Impact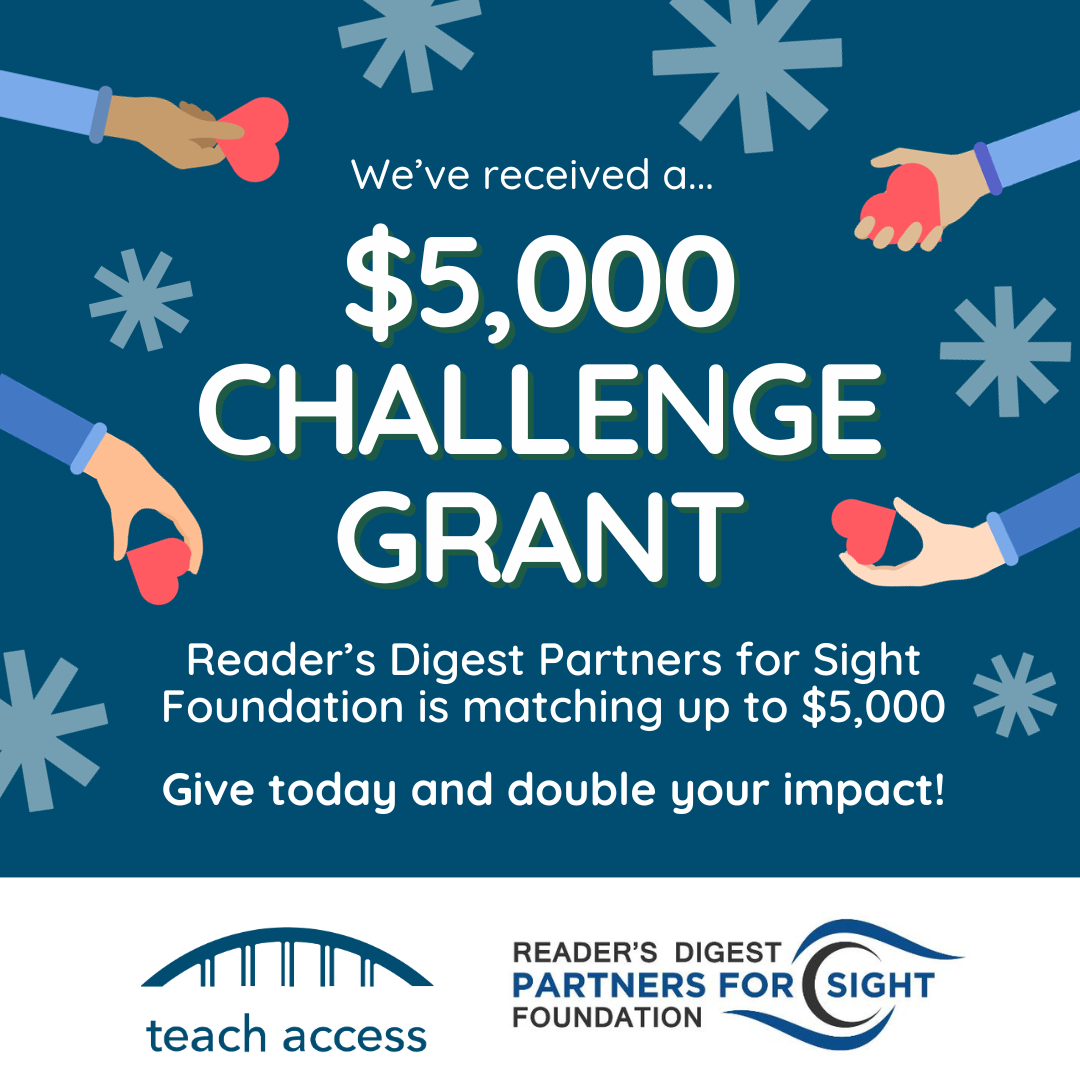 Teach Access Fellowship Program
Calling educators and academic support staff working in colleges and universities in the United States and Puerto Rico!
Consider applying for the 2024 cohort of the Teach Access Fellowship Program. This is a year-long (January to December) professional development program where you'll learn about accessibility, explore how to teach it to students, and strategize how to embed it into your curriculum. In addition to general support and training, you will create at least two curricular materials that you'll use in your own course to teach your students.
Selected fellows that successfully complete the program requirements will receive a $4,000 stipend.
Interested? Complete the program application by Thursday, November 30, 2023. Please visit the program's web page for more information about eligibility criteria and program requirements.
Teach Access Fellowship Program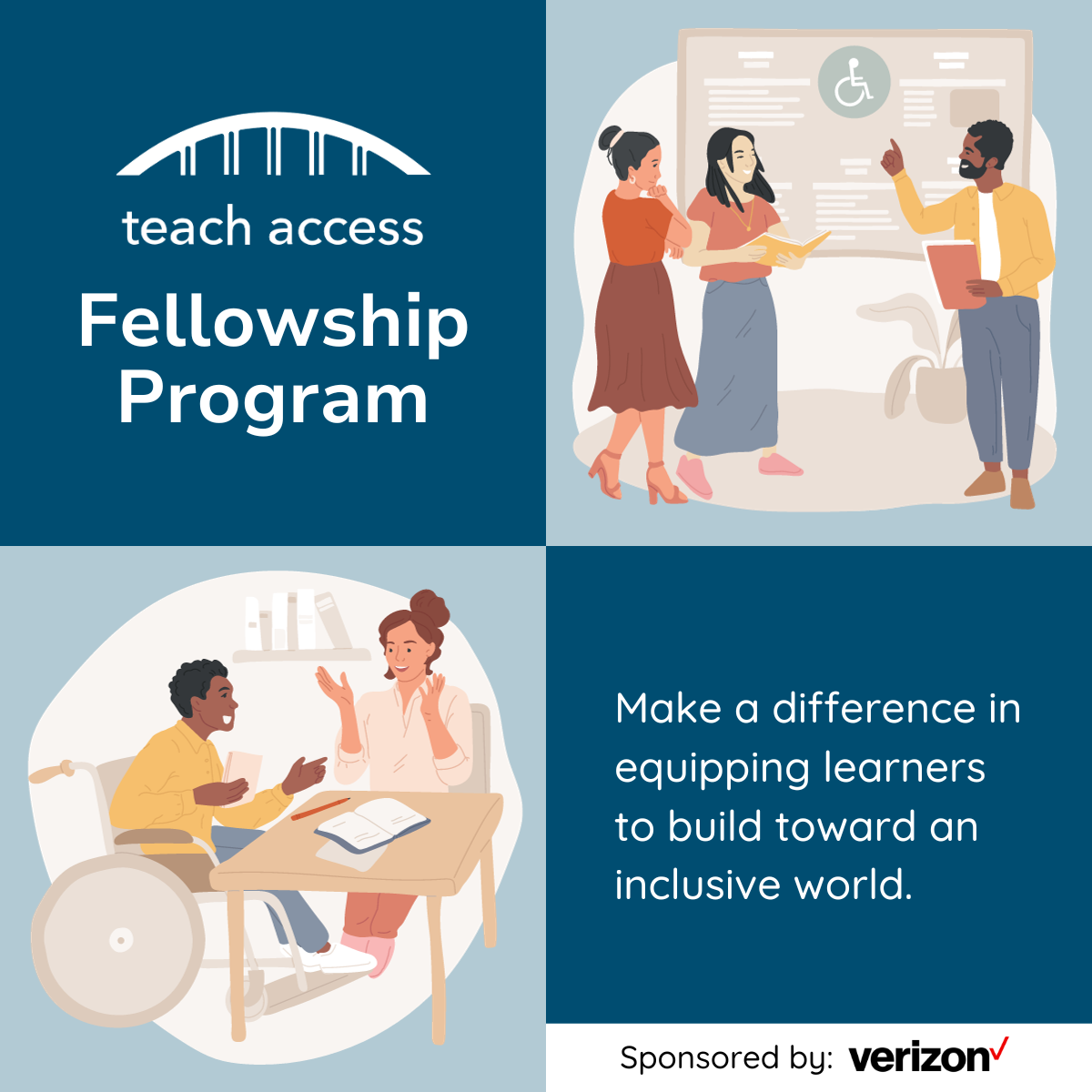 Quick Bytes + Connect
Beginning on February 2nd at 1pm ET, the Teach Access Alumni Network will be hosting "Quick Bytes + Connect," a monthly series taking place the first Friday of the month.
The session format will include a 5-minute Teach Access organizational update and a 20-minute presentation by an accessibility expert followed by a short Q&A session.
After the Q&A, you can join an optional breakout room to connect with other attendees from industry, academia, government, and advocacy groups. You'll also meet some incredible students and educators who are Teach Access program alumni.
Advanced registration is required, and we'll be providing CART and ASL. We can't wait to see you there!
Schedule & Registration
Register for Quick Bytes + Connect sessions by visiting each of the event pages linked below in the schedule.
Teach Access Grants
We are gearing up to launch round 6 of the Teach Access Grants, formerly referred to as Faculty Grants. Teach Access Grants provides funding for educators to create and deliver accessibility-infused curricula into their courses and conduct research or publish works around them. The application for round 6 will open early February 2024.
If you are interested in volunteering on the Teach Access Grants Project team, please complete the Teach Access Grants Project Team Interest Form. Project team members can assist with drafting and reviewing the call for proposals, plan info session, and/or review grant applications.
Upcoming Events
Teach Access is on the move!  Will you be at any of these upcoming events? We love connecting in person. Please email info@teachaccess to let us know!
State of Teach Access (Virtual)
Friday, December 15, 2023 1:00 pm to 2:00 pm ET (10 am to 11 am PT)
Join us for our inaugural State of Teach Access! You'll hear about major wins in 2023 and our plans for 2024. There will be time for general discussion and connection at the end.
Conferences (In Person)
Consumer Technology Association, CES 2024: January 11-12, 2024, Las Vegas, NV
Hispanic Educational Technology Services, HETS Best Practices Showcase: January 11-12, 2024, San Juan, PR
SIGCSE Technical Symposium: March 20-23, 2024, Portland, OR
2024 Sponsorship Opportunities
We're grateful to all our 2023 sponsors and we could not have done this without you! Your continued support is needed to keep us going into 2024. If you're planning to renew your existing sponsorship, increase your level, or would like to customize a sponsorship, please contact Mindy Kolin, Director of Development & Industry Partnerships.
Connect With Us!
Join us on LinkedIn, Twitter, Instagram, and Facebook. Or contact info@teachaccess.org.
Teach Access is a 501(c)(3) public charity registered in the United States, EIN #86-1697668. Contributions are tax-deductible. Please consult your tax advisor for applicable rules and regulations governing tax deductions.