Summary
The last month has been busy for the Teach Access team, launching several new programs. Our Student Academy, Student Ambassadors, and Teach Access by Design programs started last month. This month we have launched the application to join the 2024 cohort for our Teach Access Fellowship program. With each new program, it allows us to get closer to our goal of reaching 1 million students by 2030. We are excited to announce that we are making a big impact as we have already reached over 220 educational institutions through our direct programming and the Teach Access Curriculum Repository.
Accessibility Skills Hiring Toolkit
October is National Disability Employment Awareness Month!  #NDEAM celebrates the contributions of disabled people in the workplace and pushes forward inclusive employment policies and practices.
With this in mind, we'd like to remind everyone of the FREE Teach Access Accessibility Skills Hiring Toolkit, designed to help organizations attract and hire candidates with the capacity for producing accessible digital products.
Just refreshed this year, the toolkit includes position description language and interview questions for about a dozen various jobs, from UX Designer to Legal Counsel. It's a great resource for hiring managers to find potential employees with digital accessibility skills!
Accessibility Skills Hiring Toolkit
Teach Access Fellowship Program
Are you an educator or academic support staff working in a college or university in the U.S. and/or Puerto Rico? Then you might be interested in applying for the 2024 cohort of the Teach Access Fellowship Program. This program consists of year-long professional development and support for learning about accessibility, teaching it to others, and strategizing for embedding it into the curriculum. Starting this spring, fellows will be supported in understanding how accessibility informs their disciplines and in planning on how to teach it to their students. Throughout the summer, fellows will work on creating at least two curricular materials to teach accessibility in their courses. Finally, next fall, fellows will be supported in teaching accessibility to their students and in strategizing how to incorporate accessibility principles into the curriculum. Selected fellows that successfully complete the program requirements will receive a $4,000 stipend. Interested professionals should complete the program application by Thursday, November 30, 2023. Please visit the program's web page for more information about eligibility criteria and program requirements.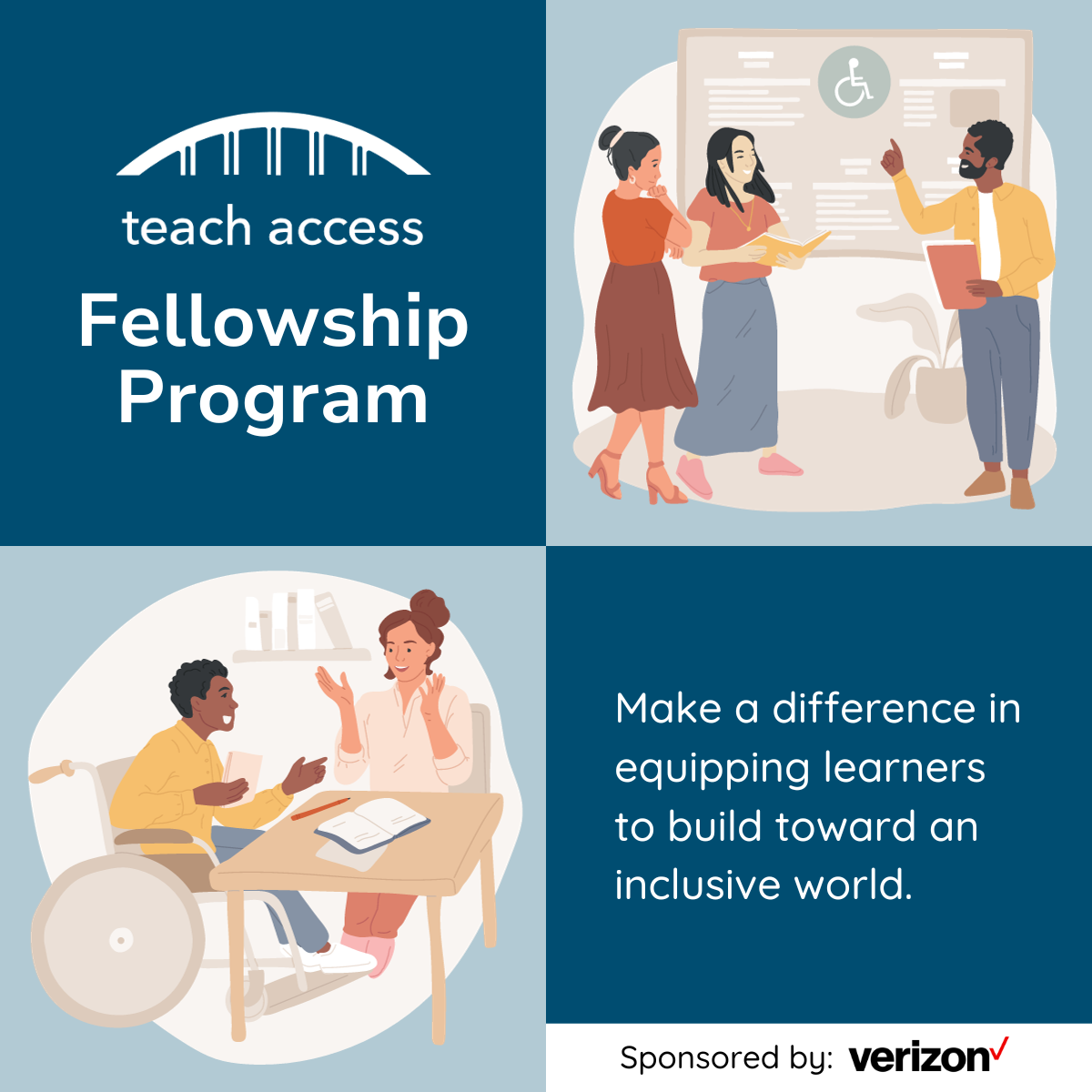 Teach Access Student Academy
We have now held two sessions of the Student Academy, with 146 students registered! The second session, held on Friday, October 13th was all about assistive technology. Participants learned what assistive technology (AT) is, how it benefits people with various forms of disabilities, and how AT promotes universal design and digital accessibility.
Each of the Student Academy sessions are recorded and will be made available to those registered for the program. So it's not too late to register and get access to the session recordings, and attend upcoming sessions. Registration for the Teach Access Student Academy is FREE and open to any students enrolled in an undergraduate or graduate program at a college or university throughout the 2023-2024 academic year. Students can register at any time and join the upcoming sessions by visiting the Student Programs webpage. Our next session, Accessibility Principles with Jeff Zundel, will be held on Friday, November 3rd at 1:00 pm ET (10:00 am PT).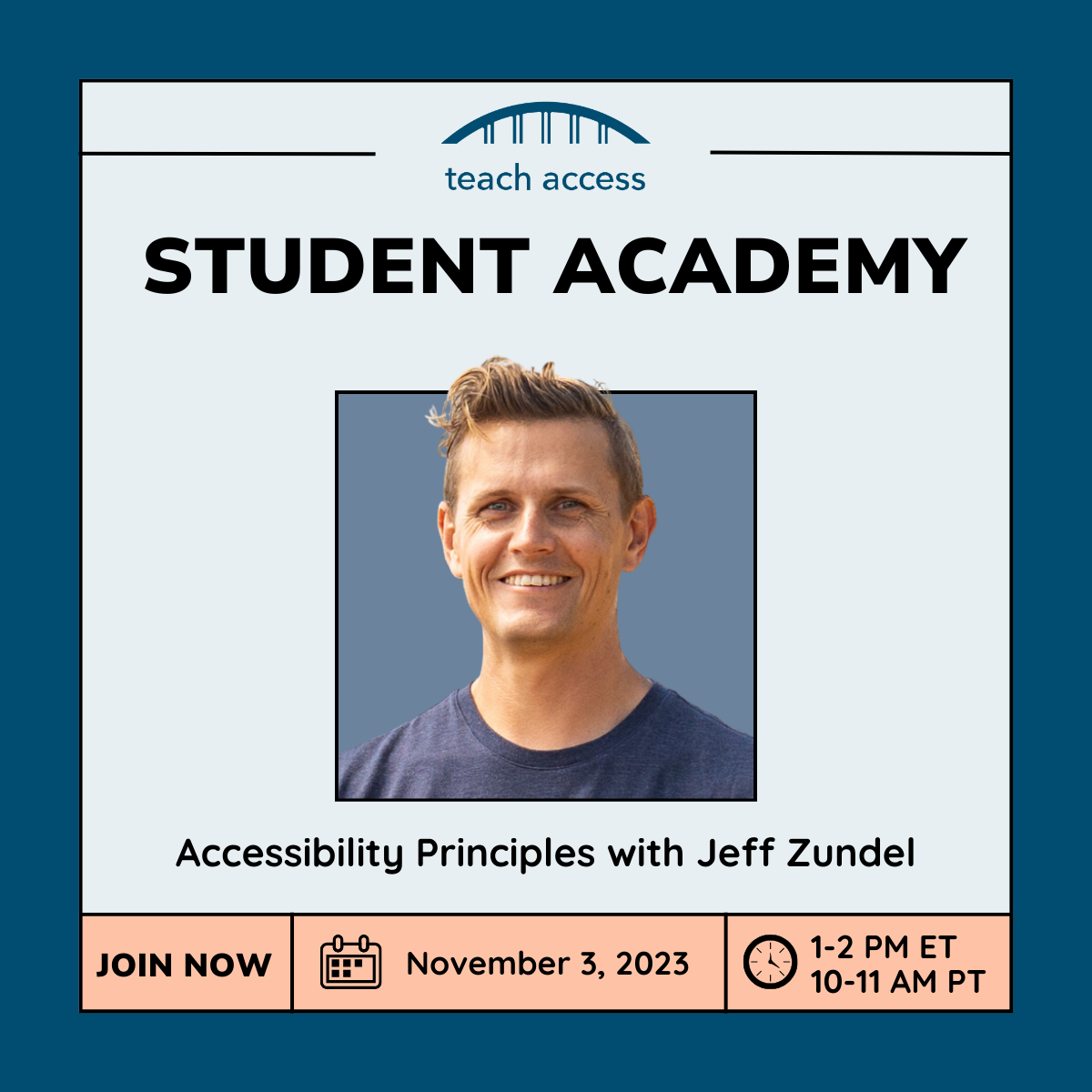 Upcoming Events
Teach Access is on the move!  Will you be at any of these upcoming events? We love connecting in person. Please email info@teachaccess to let us know!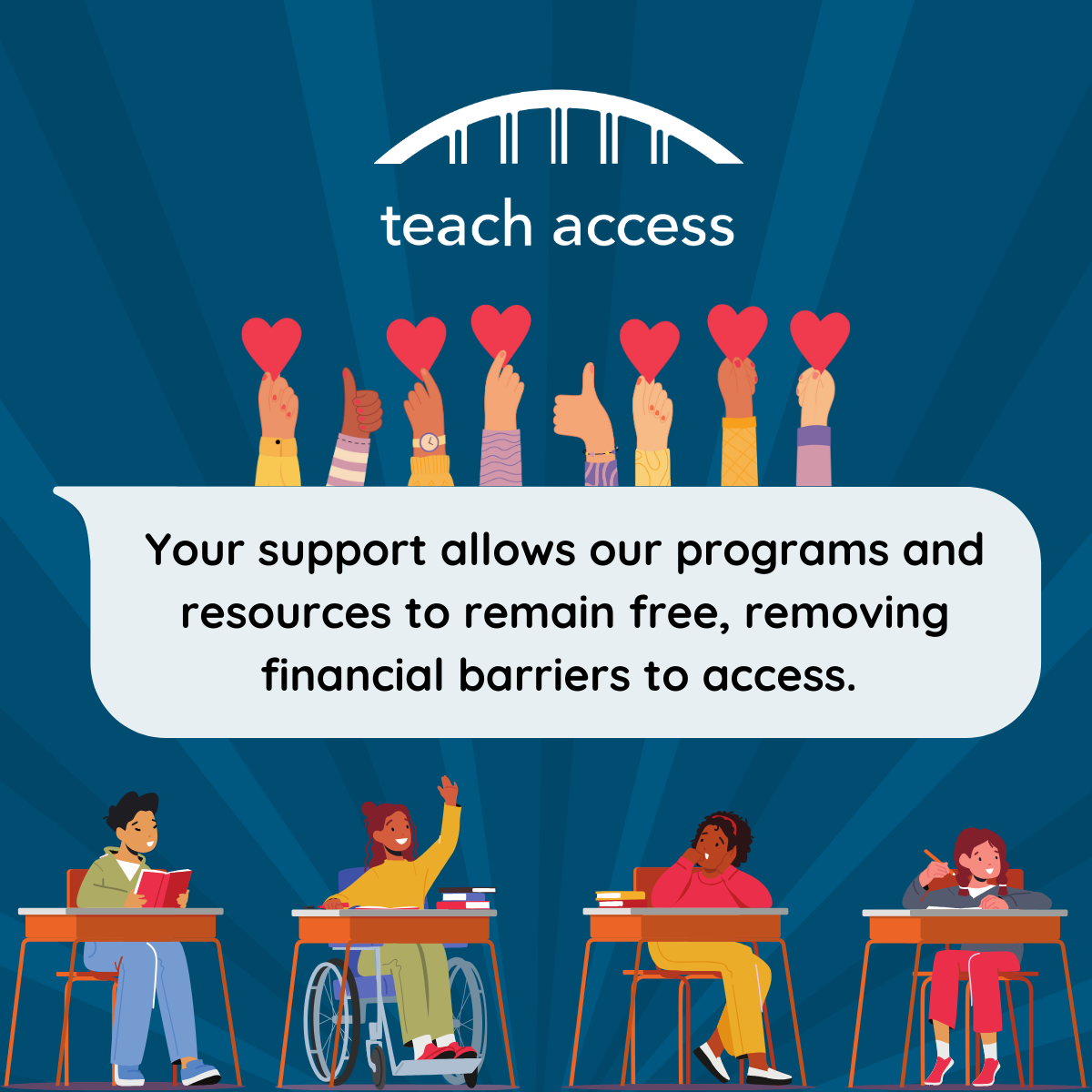 Make a Gift
Corporate Sponsorship
As you're planning 2024 budgets, we hope you will consider becoming a corporate sponsor or increasing your level of giving. Corporate sponsorship is critical to Teach Access because it provides essential financial support needed to develop and expand accessibility programs and allows Teach Access programs and resources to remain free to students and instructors.
Connect With Us!
Join us on LinkedIn, Twitter, Instagram, and Facebook. Or contact info@teachaccess.org.
Teach Access is a 501(c)(3) public charity registered in the United States, EIN #86-1697668. Contributions are tax-deductible. Please consult your tax advisor for applicable rules and regulations governing tax deductions.