Dear Teach Access members, supporters, and champions,
We are happy to share our most prominent activities and accomplishments since our last update. Teach Access has made great progress in bringing the teaching of accessible technology design and development to higher education institutions and classrooms across the country and is raising awareness through a number of exciting outreach opportunities. Have a look.
Kate Sonka of MSU named Executive Director!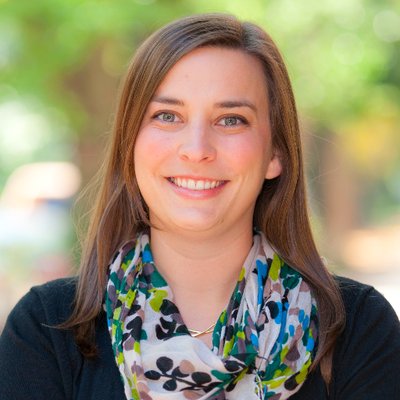 While Kate will continue in her key academic role at Michigan State University, she has agreed to take on the top leadership position at Teach Access to drive the collaboration's progress, scale and successes, building on her already tremendous contributions to the team, highlighted by our annual Study Away Silicon Valley program. Welcome, Kate!
Join us at the Web for All Accessibility Hackathon
You are invited to participate in the Web for All (W4A) Accessibility Hackathon that the Partnership on Employment and Accessible Technology (PEAT) is leading, in partnership with Benetech's DIAGRAM Center, with sponsorship from Microsoft. The annual Web4All Conference (W4A) is the premier venue for accessibility research worldwide and will take place in San Francisco on May 15 and 16 at the Lighthouse for the Blind and Visually Impaired in celebration of Global Accessibility Awareness Day (GAAD).
The hack will be focused on improving the accessibility of an increasingly popular data science tool named JupyterLab. Technical experience is not necessary to participate. In addition to all coders, we welcome persons with disabilities, teachers, advocates, designers, vocational rehab and workforce specialists, and other experts to help us create new technologies or enhance existing ones. Food and beverages during the event will be provided, including breakfast and lunch both days and dinner Wednesday night.
If you are interested in joining us, please RSVP now! Space is limited and the deadline is Tuesday, May 7.
Study Away Silicon Valley
Our second Study Away program will be held May 20-24th this year. We look forward to welcoming to Silicon Valley 25 students and seven faculty members from six universities. Participating companies this year include Apple, Google, Verizon Media, Facebook, Microsoft and Walmart.
Study Away provides a unique avenue for students to learn from and form connections with Teach Access industry partners.
Teach Access Representation at Technology Conferences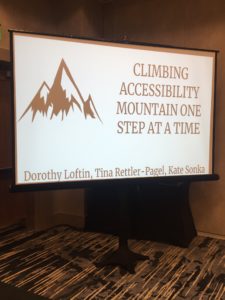 The CSUN Assistive Technology Conference and OLC InnovateConference both took place earlier this spring. Conference attendees included faculty, administrators, Instructional Systems Designers and a variety of others looking at delivering creative and engaging online learning experiences. Kate Sonka, Executive Director of Teach Access, was the OLC conference co-chair and presented at the Career Forum Roundtable.
During both conferences, Teach Access members gave an overview of Teach Access and our mission and raised awareness about the importance of faculty teaching accessibility in mainstream STEM and design courses.
Curriculum Development Awards (Faculty Grants)
We are pleased to announce that the 2018-2019 grants have all been awarded and the submission form is now closed. These twenty $5,000 awards went to higher education faculty to fund modifications to their courses that will introduce the fundamental concepts and skills of accessible design and development to their students. Ten of these awards were reserved for faculty at New York City-based institutions. We are currently evaluating the first cycle of faculty grants — stay tuned for more information.
Thank you to the Reader's Digest Partners for Sight Foundation, the New York Community Trust and Teach Access corporate members for funding this important contribution to the Teach Access mission. Follow this link to view a list of grantees and their institutions.
Evidence Packet
We will be releasing our Evidence Packet on our website in the upcoming weeks. The Evidence Packet, designed for higher ed and corporate decision-makers, consists of marketing and awareness-raising information which provides clear and compelling reasons to support the Teach Access mission of making technology accessible and making accessible technology ubiquitous via enhanced curricula, academic leadership, online learning tools and industry partnership. It also addresses the significant skills gap corporations are facing when trying to address the increasing demand for digital accessibility.
New Teach Access Members
Welcome to the members who have joined us since the beginning of 2019! A complete list of Teach Access members can be found on our website.