On April 20 and 21, 2016, many members of the Teach Access initiative met at Yahoo's headquarters in Sunnyvale, CA for its first in-person workshop. We had more than 40 participants, representing technical leadership across the tech industry, academia and disability advocates.
The workshop began with presentations from industry and academia underscoring the need for this initiative from their perspectives. In a nutshell, technology change is outpacing the number and capability of accessibility-knowledgeable graduates and tech workers, putting recent digital accessibility gains in peril.
We then had a broad discussion on what all students of technology need to learn in order to prepare them for working in industry and building with accessibility in mind. We are now completing a draft of the key learning concepts we discussed, which we hope will provide strong guidance to educators.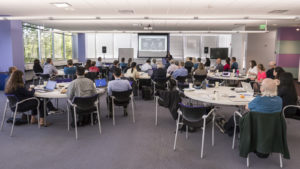 In addition, we have formed six task forces to help us achieve our mission of embedding accessibility pervasively throughout higher education and expanding educational experiences for students. The task forces are:
Create teaching materials for diverse student audiences
Create evidence packets to help engage university leadership and administrators on the need for teaching accessibility
Pursue accreditation programs for viability of teaching accessibility
Create opportunities for student engagement beyond the classroom (conferences, internships, etc.)
Investigate industry-sponsored competitions on accessibility and ways to embed accessibility into existing competitions
Investigate grant opportunities for professors to incorporate accessibility into coursework (e.g., to support student and faculty prizes, select equipment and tools, etc.)
These six areas represent our near-term focus for this year. We will continue to evaluate where we can have the most impact on bringing accessibility into higher education, so stay tuned as we drive forward!
If you're interested in learning how to participate and contribute to this work, please contact us at teachingaccessibility@gmail.com.