Teach Access
Technology companies dedicated to accessibility have faced the common challenge of preparing designers, engineers and researchers to think and build inclusively. Similarly, academic programs in design, engineering and HCI are seeking ways to better prepare students to address the needs of diverse populations. Given this shared challenge, industry, academia and advocacy have now come together to create models for teaching and training students of technology to create accessible experiences.
---
Teach Access Wins Honorable Mention at FCC Chairman's Award for Advancement in Accessibility celebration at M-Enabling Summit (Washington, DC, June 13, 2017)
We were honored to be recognized by FCC chairman Ajit Pai for our great work. Here's what the FCC press release said about us:
Teach Access is an initiative by industry, academia and accessibility advocates to expand the quality and quantity of undergraduate programs that teach the fundamentals of accessibility in fields such as design, computer science and human computer interaction. The initiative has established a core set of Accessibility Fundamental Concepts and Skills on web accessibility, federal accessibility laws and industry best practices, along with an industry guest speakers program and online accessibility tutorials for the purpose of preparing designers, engineers and researchers to build products and services inclusively.
So many Teach Access members were at the Summit to share in the honor and the project was on everyone's lips and minds during the conference. Here's Microsoft's Mary Bellard with the award certificate, the certificate itself, and Yahoo's Larry Goldberg on-stage with chairman Pai:
---
Teach Access Faculty Bootcamps have begun! Read what the University of Washington's Andy Ko has to say about the one he recently attended: https://medium.com/bits-and-behavior/accessibility-101-an-afternoon-at-the-teachaccess-bootcamp-ee317f426022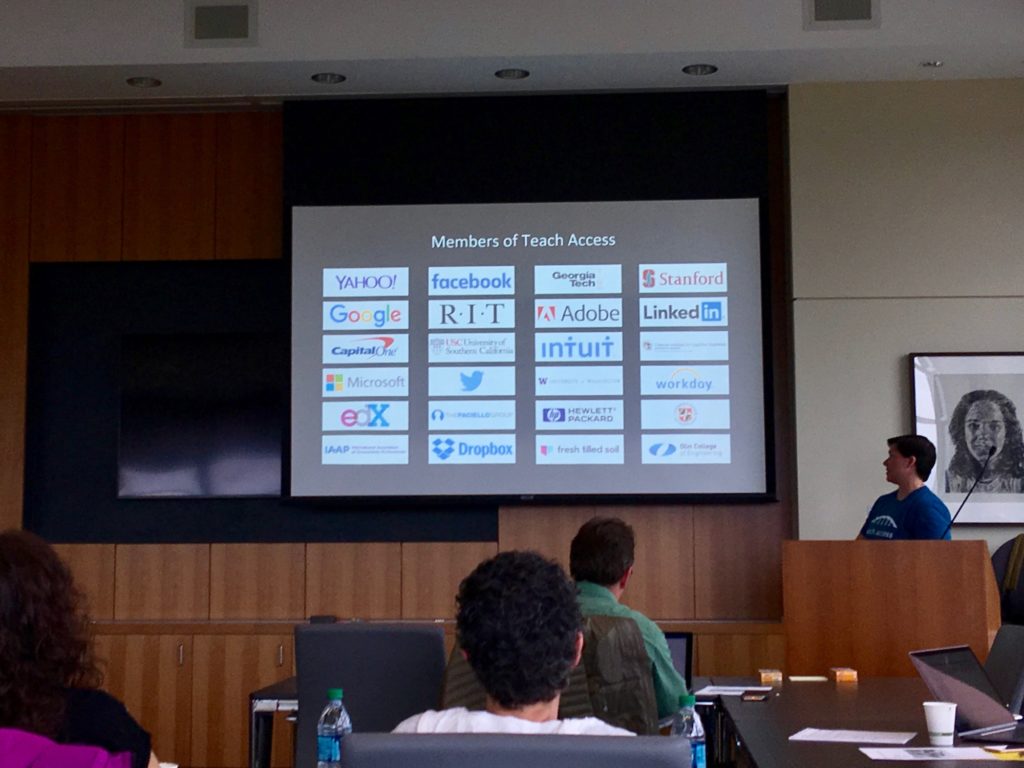 Caption: Microsoft's Mary Bellard leads the Teach Access Faculty Bootcamp at UW on May 30, 2017
---
Teach Access Wins Knowbility Educational Achievement Award [link to full press release].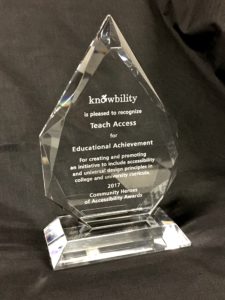 Inscription reads: "Knowbility is pleased to recognize Teach Access for Educational Achievement for creating and promoting an initiative to include accessibility and universal design principles in college and university curricula. 2017 Community Heroes of Accessibility Awards."
Knowbility executive director Sharron Rush said, "The [Knowbility board vote on the final honoree] for Teach Access for Educational Achievement was unanimous. The work you are doing may be the most important work in the entire accessibility field in terms of integrating accessibility thinking into general best practice. We are all grateful for the foundations you are building and stand by to help in any way we can."
---
Teach Access 2016 Progress Report and 2017 Goals.
---
Our New Membership Framework, including benefits and commitments for membership, clearly spelled out for Industry, Academia and Non-Profit organizations and advisors.
---
Industry Guest Speakers program for university members of Teach Access. Ten companies have offered to visit classrooms upon request, virtually or in person, and more will be joining soon. If you are a Teach Access academic member (see new Membership Framework above), just take a look at the menu of experts at the linked document below, get directly in touch with one or more of the experts, and make your arrangements. There is no charge for this service, though you will need to set up your own preferred online service (e.g., Adobe Connect, WebEx, Skype, iChat, etc.).
List of Industry Guest Speakers: TA Industry Guest Speakers
---
Questions, thoughts, ideas? Contact us at: teachingaccessibility@gmail.com
---
Check out the Teach Access panel at Tech Inclusion SF (October 26, 2106)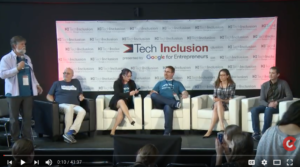 The video features Larry Goldberg (Yahoo), Ted Drake (Intuit), Amy Chen (Adobe), Mike Shebanek (Yahoo), Laura Palmaro (Google) and Jeff Wieland (Facebook)
---
The companies that are supporting Teach Access are focused on the continual improvement of the accessibility of their products and services. They have recognized that the success of this effort relies on a technical workforce broadly familiar with and trained on the fundamentals of designing, developing, testing and proliferating accessible technologies, including the common standards and specifications and alternative interfaces used by people with disabilities. These skills should be spread across a variety of engineering, development and design positions, not just those dedicated full-time to accessibility.
The Teach Access initiative has launched a set of best practices for the disciplines responsible for making mobile apps and websites accessible. This tutorial will provide basic training for developers and designers interested in building inclusive experiences. If you are new to accessibility, this tutorial's for you. It is freely available on GitHub so that it can be shared widely and further enhanced by the community. Happy learning: Teach Access Tutorial
Latest News & Events
Teach Access Wins Knowbility Award for Educational Achievement

5-6pm Accessibility: Why It's So Important ANTONE'S CAPITAL ONE HOUSE 305 E 5th St